Are you ready for a fabulous feature, celebrity news (did somebody say Cruise family) and a giveaway?! Holy smokies!!
I'm so excited to be able to share an interview with Jane the creator/designer behind Little Bug Jewelry. She's an artist, a runner, a mother and a great Twitter friend!
The birth of Little Bug Jewelry:
I started making jewelry in about 2005 after we moved to the Midwest, partly as a way to keep my hands busy during the long gray winters we get here. I've always done something creative, writing, woodworking (which I wasn't very good at, but we do have a sad side table I made in our guest room), etc, but once I started making jewelry I was hooked! Similar to many others, I started with beading, then started experimenting with wire wrapping and ultimately learned metalsmithing, which I am still learning everyday! It was actually my Father in law, who is a dentist who got me into metal work. He specializes in dental implants and they learn about wax carving and metal casting, and he starting doing soldering and metal casting as a hobby. I haven't braved doing my own casting yet, though I have all the equipment, thanks to him, out in the garage.
I started 'officially' selling jewelry in 2007 when someone suggested I sell on Etsy, my first daughter was months old at the time and my nickname for her was 'Little Bug', hence the name of my shop :-). My first year on Etsy I sold all of THREE things, but I'm stubborn and persisted!
A typical day at the Little Bug Studio:
There are no typical days really . . .I have a day job 3 days/week but am lucky enough to have 2 days a week for jewelry. My best selling item is custom rings/ring stacks so usually I have those to work on. On an average day I will hit the computer in the early am, to play, err . . .work on Twitter, etc, make some treasuries and catch up on communication. Then I usually do fabrication/metal work the rest of the morning and in the afternoon, while the metalwork pieces are pickling, tumbling, etc, I will do stone setting on pieces that are complete, wire wrapping as needed, photographing, photoediting, packing up orders, and so on and so on! When I have time, I work on one of a kind pieces.
The Process:
My design process is chaos essentially . . .really! For ring stacks it is easy, they are usually precombined sets, or I do a lot of birthstone sets for people, it is fun to combine new color combos that I might not have come up with. For the one of a kind piecs, etc . . .I don't usually start with much of an idea, it sounds a bit silly, but usually the stone I am working with kind of guides me. Many times the finished piece ends up very different than it originally started out to be, I sometimes feel that the more I 'plan' a piece, the more likely it is to come out completely different than my original idea.
A favorite creation:
My current favorite piece in my shop is a raw pyrite necklace, which kind of epitomizes what I think of as my style, 'rustic glam'!
Where is Little Bug Jewelry headed?
5-10 years . . . I guess I don't know, I do know I will always do something creative! Jewelry is an especially tough category to be in, there are a lot of us and the economy doesn't help. But as long as I still get that thrill from making it, I'll keep doing it.
A Story: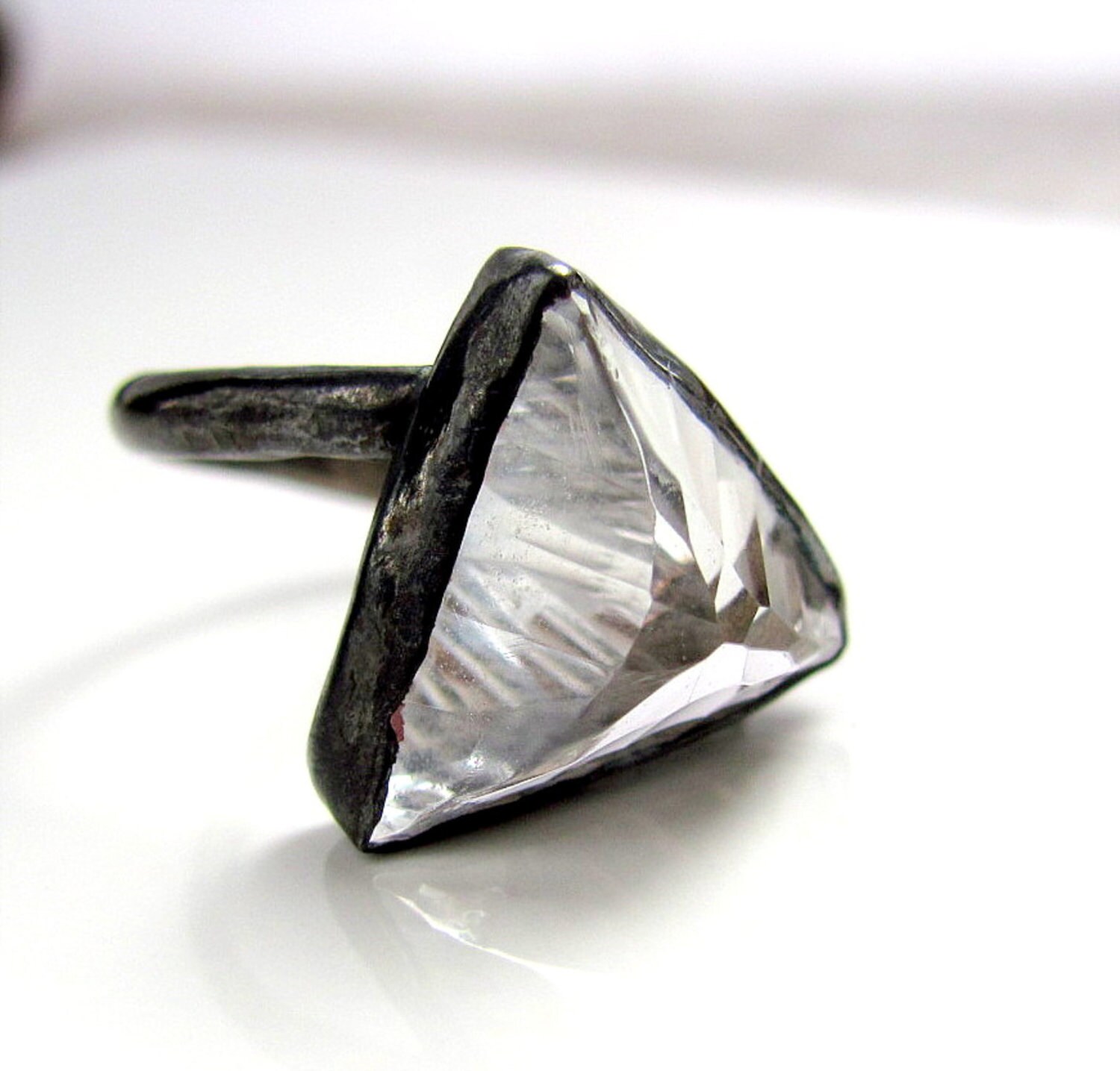 Crystal Quartz Ring (SOLD)
Most of my stories come from the shows I have done, some funny, some cringe worthy. I think one of the funniest was at a show with a piece that used to be in the other shop I had for a while (Raredesign, now re-combined with Littlebug)
http://www.etsy.com/transaction/60987518
, it was an attention grabbing piece for me on Etsy, but she picked it up, tried it on, then started rubbing at it saying "all it needs is a little polishing". I THINK I managed to keep a straight face while I explained to her the oxidation process and that it was meant to be dark like that, but she didn't buy it so??
But mostly my customers are wonderful, and I love when they come back for more, it is the biggest compliment I can ask for.
A fun celebrity gifting:
I am part of a group called The Artisan Group and a gifting opportunity was available for the Tom Cruise family, and I was lucky enough to get a spot. Creating a piece for katie Holmes was a challenge, she does not wear a lot of jewelry. She has a very classic style, almost a modern day Audrey Hepburn. Here is a perfect example of my design style going wrong, or right . . .My original plan was to do a very simple metalwork pendant with turquoise (her birthstone), so I ordered an oval piece of turquoise (about 13 X 18mm) and was going to do a very simple setting on a choker chain. But one morning I was playing with a different piece of sleeping beauty turquoise, and started to see an abstract design in my head. I started playing with wire and came up with the final pendant which is based around an abstract "S" (for Suri) that winds around the turquoise, and added in white moonstones to complement. The piece is finished with a very light oxidation to bring out hammered textures in the S. For earrings, I noticed that she mostly wears studs, so I made a pair of simple turquoise stud earrings. Fingers crossed we see her wearing them!
The Giveaway!
Win a pair of earrings similar to the studs pictured here!
Oh, I love this part! The part where one of my lucky blog readers gets to win something fabulous! Are you ready!! Jane has been kind enough to offer up a gorgeous pair of turquoise stud earrings similar to the pair being gifted to Katie Holmes (as seen in the photo above)! A pair of 4mm studs that are great for daily wear! Giveaway is for the earrings ONLY photo used shows items gifted to Katie Holmes.
Here's How to Enter:
(Each comment counts as one entry)
1. Like my blog and leave a comment here
2.
Fan bailybelle on
Facebook
and leave a comment here
3. Fan Little Bug Jewelry on
Facebook
and leave a comment here
4. Follow Little Bug Jewelry on
Twitter
and leave a comment here
5. Follow bailybelle on
Twitter
and leave a comment here
For extra entries:
1. Blog about this giveaway and leave a comment with a link to your blog here (worth 3 additional entries)
2. Tweet about the giveaway and leave a comment with a link to your tweet here (worth 3 additional entries)
Giveaway winner will be announced April 14th!!